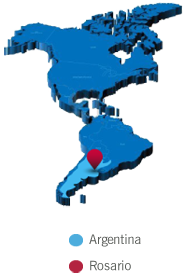 AVAILABILITY, LOCAL KNOWLEDGE, AND SERVICE
Sundland Brokerage is a full- meat, dairy, and foodstuffs brokerage company. We specialize in sourcing South American origin products.
With headquarters in Rosario, Argentina, we consider our location to be of strategic importance for the interests of our customers.
Our more than seventeen years of experience in the meat and foodstuffs export business, to the main markets in the world, is our most important asset. This, coupled with very well organized approach to risk analysis, logistics and documentation, are the foundations which allow us to offer a good product, and to contribute to the profitability of our customers.
We are part of a new generation of meat and food business professionals, who understand the worldwide need for proteins will only grow in the years to come, and that the Mercosur region is well positioned to satisfy this demand. We believe in good business and long term oriented relationships as the best way to take advantage of this opportunity.
EXPERIENCE. KNOWLEDGE. PROFESSIONALISM. TRANSPARENCY. ETHICS. SERVICE. LONG TERM VISION. Sundland Brokerage is also a values-based organization. We believe that our success depends on adherence to the core values of honesty, hard work, and respect. We strive to conduct ourselves in accordance with the highest ethical standards.
These are some of our values that have allowed us to differentiate ourselves in the industry, and to gain the trust and credit of many buyers and sellers around the world.